2023 continues to be a challenging year for the Global economy with continuation of the war and slow down in growth in developed economies. How has the year been for Truetzschler Group and more particularly for the Manmade Fiber and Nonwovens Business?
The year 2023 is another challenging for the whole textile sector, namely the high inflation, the volatile energy costs which result in a certain purchasing reluctance on consumer side. We expected ITMA to signal the start of a fresh upswing since Trützschler as well as other machinery builder in the textile chain offered ground-breaking remedies.
It appears that the markets want more time before things can return to normal. Nevertheless, successes could be reported both at ITMA and during the weeks after. Trützschler Nonwovens' answers – the T-SUPREMA needle-punching cooperation with Texnology, the new MPD dryer, our solutions for pulp-based Carded/Pulp nonwovens with Voith and our digital working environment T-ONE – were very well received by all visitors.
The silver lining in all these challenging times was the ITMA Milan 2023, which gave the opportunity to meet customers worldwide. How was ITMA for Group and for Manmade Fiber and Nonwovens Business Group?
ITMA was a huge success in terms of visitors connecting with Trützschler. While there weren't as many Chinese companies, there were more clients and interested parties from India, Pakistan, Bangladesh, and other Asian nations than anticipated. The Americas did well, while the second part of ITMA was obviously dominated by European companies. Resuming social interaction and face-to-face communication was really beneficial after the long pandemic.
Can you highlight the products and technology innovations launched by Truetzschler at the show?
All Trützschler units unveiled new products. Trützschler Spinning introduced the new TC 30i card with an expanded cylinder diameter and a higher number of active flats, the 12-head TCO 21XL comber for higher productivity, and the integrated draw frame IDF 3. The unit also announced a partnership with Balkan Textile Machinery to enhance recycling solutions.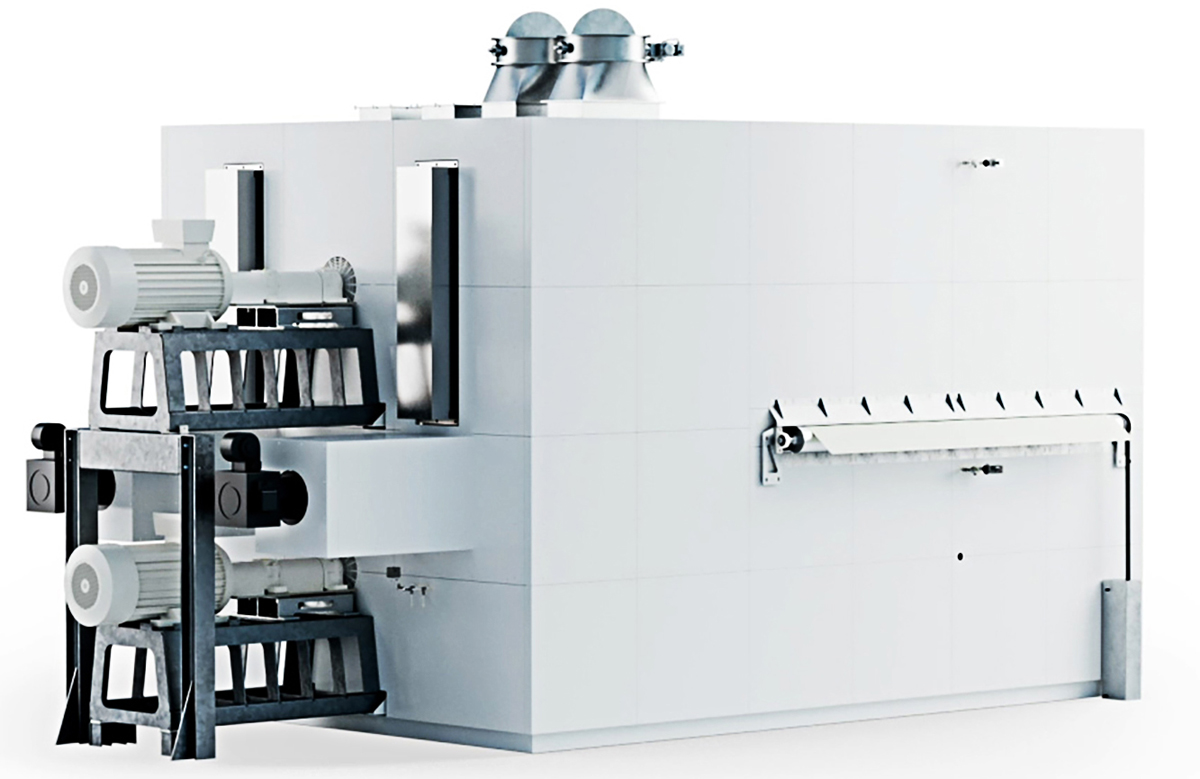 Trützschler Nonwovens placed special emphasis on T-SUPREMA needle-punching solutions for producing technical nonwovens. T-SUPREMA lines are designed for enhanced line efficiency and adaptability to various applications. All machinery is seamlessly integrated can be configured to produce nonwovens for standard automotive and geotextiles, specialized filter media, coating substrates, acoustic or structural elements and also fancy end products such as tennis balls.
Trützschler Man-Made Fibers showcased the OPTIMA universe for spinning BCF carpet and industrial yarns. The digital journey offered general information on the available solutions as well as insights into core components from extrusion to winding.
Trützschler Card Clothing contributed special flat top card wires for processing recycled materials and the Z-Wire, a dedicated roller card wire to be used in high-speed hydroentangling lines.
Truetzschler and Texnology jointly presented the T-Suprema at ITMA. Can you explain to us on the path breaking innovations presented by this partnership?
Needle-punching technology enjoys widespread recognition, with hundreds of installations worldwide. Machines from various suppliers share substantial similarities. The noteworthy distinction of the T-SUPREMA solution lies in its machinery and comprehensive offerings. Firstly, both Trützschler Nonwovens and partner Texnology s.r.l. provide outstanding machinery replete with ingenious details, ensuring the highest levels of line availability and nonwoven quality. Secondly, the machinery's versatility allows for the creation of line configurations catering to a full spectrum of needle-punched nonwovens.
Thirdly, an integral component of all T-SUPREMA lines is Trützschler Nonwovens' digital working environment, T-ONE. This software package not only reduces manual labor and streamlines operations but also continuously monitors and archives line and nonwoven roll status. Moreover, its potent AI-based capabilities empower operators to optimize line performance concerning product quality, production speed, material usage, or energy consumption.
A fourth advantage lies in Trützschler's extensive global service network, featuring skilled field engineers, local spare part inventories, and wiring services aimed at minimizing downtime. Mid of September began the installation of a versatile T-SUPREMA needle-punching line in the NCTC Technical Center at Egelsbach, Germany. First customer trials are scheduled for the end of November already.
Z-Wire was another important technology particularly for the Nonwoven segment. How does this technology enhance productivity and efficiency of customers?
Z-wires from Trützschler Card Clothing completes Trützschler's high-speed hydroentangling (spunlacing) line solutions. The rotational forces of the card rollers, which result in fiber fly inside the roller card's enclosure at higher speeds, are a significant problem. The Z series of wires have a distinctive, serrated shape that keeps fibers in place on the roller even at winder speeds of up to 300 m/min. Then, at precisely the correct time, the fibers are freed for transfer and orientation. When fiber fly is avoided, the risk of fiber migration is decreased, uniform web formation is made possible, and the operational reliability of the line increases.
Truetzschler has introduced MPD in the production of Spunlaced nonwovens. How does this technology help in energy savings for your customers?
The modular high-performance dryer, or MPD, is designed to swiftly dry hydroentangled nonwovens. The vertical dryer was created using the most recent technical techniques and Trützschler's extensive expertise with hundreds of drum dryers delivered. This is how through-air drying works: fresh air is continuously drawn into the dryer, heated, forced through the wet web, and then partly expelled. This is how drying works. The quickest drying occurs when all air that has flowed through the wet web is removed, however this process uses a lot of thermal energy. Recirculating the air that has just passed the web uses the least thermal energy because it is still hot enough to continue evaporating water from the web. In typical dryers, the heating system first warms the fresh air. It combines with the stream of colder, moister circulating air before being extracted. Heat is lost significantly as a result.
The essential component of MPD is our patented intermediate chamber, which divides the hot, dry air stream produced by the dryer's heating system from the moist, cooler air that passed through the wet nonwoven. Heat loss is minimized and thermal energy consumption is decreased by 10% since only cooler air leaves the dryer.
Digitization continues to be an important theme for Textile Industry. Can you highlight Digital integration by Truetzschler and how it?
Digital technologies are fundamentally transforming the landscape of the workplace. This paradigm shift presents both novel opportunities and fresh challenges that companies must effectively navigate.
For several years, Trützschler Spinning has offered the comprehensive My Mill platform. This platform furnishes customers with critical insights into their production processes, maintenance requirements, product quality, and an exhaustive overview of the operational status of each machine they utilize.
At ITMA, Trützschler Nonwovens invites customers to delve deep into its T-ONE digital work environment. In addressing contemporary challenges such as soaring fiber and energy costs, a shortage of skilled workers, and a heightened focus on a company's or product's carbon footprint, the advantages of seamlessly integrated digital workflows become increasingly evident.
T-ONE serves nonwoven producers by consolidating all pertinent production data, including customer specifications, recipes, nonwoven roll characteristics, and real-time line status information, within a unified platform. It not only enhances transparency over time but also establishes systematic work routines, particularly in quality control and product development, spanning all shifts. Furthermore, its AI-driven algorithms facilitate staff training through extended line simulations and permit the optimization of line performance. Notably, T-ONE is not limited to spunlacing processes; its fundamental functionality is also incorporated into T-SUPREMA needle-punching solutions and has proven its effectiveness in spunbond operations too.
Sustainability is no more a fancy word…it is the need of the hour. How is Truetzchler making its product, solutions and the end product for consumer Sustainable?
The Trützschler Group addresses sustainability and circularity in various ways. Earlier this year, Trützschler Spinning forged a partnership with Balkan Textile Machinery, INC.CO of Turkey. The robust and reliable Balkan machines cut, mix, and process textile waste into individual fibers, which are then pressed into bales of secondary fibers. These bales can be fed into the preparation process using Trützschler machines. As a result, Trützschler Spinning became the first full-liner in spinning preparation for recycling and now offers a complete recycling package, including a tearing line, blow room, card, draw frame, card clothing, as well as service and technological know-how.
Another approach is the newly created TRUECYCLED label, which represents state-of-the-art recycling installations from Trützschler. A TRUECYCLED process is based on Trützschler's technological recommendations and a lineup of Trützschler machinery to ensure the best possible quality of the end product, whether it be ring or rotor yarn or a wipe. Trützschler customers and partners may use the TRUECYCLED brand for both the process itself and the end product, as long as it contains a significant amount of textile waste.
Trützschler Nonwovens also provides solutions for recycled fibers. Our T-SUPREMA needle-punching lines can be configured to process recycled materials into typical end products, such as non-visible noise insulation panels or seat reinforcements in vehicles.
Regarding single-use consumer products, Trützschler Nonwovens focuses on biodegradable materials. We advocate strictly for raw materials from renewable resources. Wipes made from natural fibers, cellulosic fibers such as viscose or lyocell, and pulp fully biodegrade and thus release no microplastics into the environment when not disposed of regularly. In cooperation with Voith, we have brought the Wet-laid/Spunlaced (WLS) and the Carded/Pulp (CP) technologies to market. More than 10 installations worldwide now process paper-grade pulp and cellulosic fibers into either flushable wipes or high-quality baby and body wipes.
Another aspect is implementing sustainable production with energy-saving measures at the top of the list. Trützschler Nonwovens continually improves its machinery in this regard, with an example being the new MPD dryer. Additionally, our digital solution T-ONE comes into play. The latest addition to the software is a module called Energy Management, which stores and calculates consumption data. When fed into T-ONE's optimization algorithms, a model of line behavior is created, and recommendations for better line settings are generated.
Finally, given that a customer has many options available to buy his machines, why should he consider Truetzschler? What are the advantages that you offer when compared to competitors?
Trützschler is always a wise choice, whether you need spinning preparation systems, nonwovens, production facilities for man-made fibers, or even card clothings. Each business unit has a wealth of expertise in its specialized field. Technology-wise Trützschler frequently outperforms in the market because our engineers enjoy advancing established technology into cutting-edge ones. As an illustration, Voith and Trützschler Nonwovens combined nonwoven and papermaking production techniques to create strong yet soft wet and dry wipes from paper-grade pulp. Another illustration is our T-ONE software, which not only keeps track of the status of the equipment and production line, but also greatly improves production performance by digitalizing work processes and providing tools for line optimization.
Trützschler is also a genuine multinational conglomerate of companies. We established subsidiaries in important markets in the 1960s and 1970s. We moved to Ahmedabad, India, in 1977, and launched our China business in 2001. With skilled field engineers, spare part inventories, and wiring services, our 10 production facilities and 5 service locations together make up the current global Trützschler service network. And last, we are still a privately held family business, with the fifth generation ready to start in the workforce and the sixth generation on the way. We also want our grandchildren to be able to live happily on this planet. Therefore, we support eco-friendly production, resource-efficient technologies, and trustworthy collaborations with all of our stakeholders.