Despite there being several exhibitions in India that feature nonwoven products, Nonwoven Tech Asia organised by Radeecal Communications is the only show that exclusively panders to nonwovens and therein lies its strong USP
Radeecal Communications' growth from a relatively small company to one of India's most successful exhibition organisers can be attributed to its principles based on creativity, consistency and collaboration. Their team of expert operational staff is widely known for their professional demeanour and their ability to consistently deliver reliable outcomes. Sanyal Desai, Founder and CEO of Radeecal Communications, has shed light on the journey of the company since its inception in 2010 in an exclusive interview
At the time the company was created, the common perception was that materials such as plastics and cloth were used to make items such as carry bags. The fact that nonwovens were being used in this segment was of great surprise to Sanyal Desai, who later discovered that the Indian market at that time wasn't aware of the sheer potential possessed by nonwovens. Considering the vast number of applications of nonwovens, Desai decided to ensure that he played his part in spreading awareness regarding the versatility of nonwovens along with their immense market potential.
It was this drive that led to the launch of Radeecal Communications' very first exhibition in Gandhinagar, Gujarat, which gradually began expanding to larger metro cities such as Mumbai and Delhi. It was in these exhibitions that the variety of applications of nonwovens, such as, but not limited to the realms of hygiene and filtration, were made apparent to the participants. With shows having already been held in Mumbai and Delhi, the 8th edition of Nonwoven Tech Asia is scheduled for September 2022, with over 200 exhibitors expected to be present.
Focus on Nonwovens
Nonwoven Tech Asia has seen a rich variety of companies from various industries participate in its editions over the years. The use of nonwovens in diapers, sanitary napkins, surgical products, medical textiles, as well as in the agricultural and automobile industries was elucidated upon in these exhibitions and has continued to motivate other companies in these sectors to consider incorporating nonwovens into their product portfolio. For the 8th edition of Nonwoven Tech Asia, Sanyal confidently expects at least 15-20 companies from China, Europe and at least five other international players.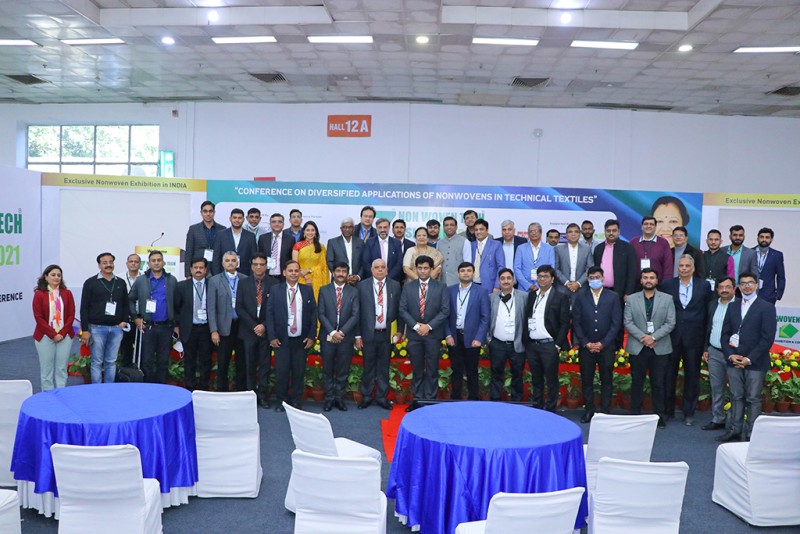 Despite there being several exhibitions in India that feature nonwoven products, Nonwoven Tech Asia is the only show that exclusively panders to nonwovens. Its profile since inception has and will always be nonwovens, a factor which Desai considers one of his company's unique selling points. Besides their focus on nonwovens, Radeecal Communications, via its other exhibitions, has covered multiple segments including the agricultural, dairy, environment technology, ceramics, wood, and plastics industries. Their recent expansion into Nairobi, Kenya has set the stage for exhibitions pertaining to the nonwoven and medical technology industries, all of which are slated to take place in the year 2023.
Overcoming Pandemic-Related Challenges
Nonwoven Tech Asia is an exhibition that owes a major part of its success to the significant support extended to it by its various associations. The Non Woven Federation of India (NWFI) has been a source of great strength and support over the years, according to Desai. Additionally, the company has allied itself with a lot of regional associations situated in the north, south and west of India, all of which are major players in the realm of nonwovens. Despite Radeecal Communications' smooth sailing in the show organising business since 2010, the pandemic presented a vast number of obstacles for them to overcome.
Due to social distancing protocols being adopted across the globe, there was no question of holding physical exhibitions until the situation resolved itself. The adversities faced by the company – though many – were overcome during the course of the pandemic due to two principal factors. Desai states that from its very inception Radeecal Communications has ensured that it had sound financial planning and good fallbacks, which played a key role towards sustaining themselves during the pandemic. Secondly, due to the impossibility of holding real-time physical exhibitions, the company decided to hold around 10-12 virtual exhibitions in the interim, for which they created an in-house platform on which these exhibitions could be held.
However, shows held in virtual settings generally do not gain as much traction as physical exhibitions due to there being limited scope for organic, one-on-one interaction between the companies. Although hosting these shows on a digital platform was not very financially profitable, the virtual exhibitions proved to be extremely useful towards the collection of useful market data. While many other companies are still reeling from the harsh effects of the pandemic to this day, Radeecal Communications not only stayed afloat, but viewed the period as an opportunity to develop a new marketing and promotion strategy tailored to the digital sphere and learned how to effectively promote their upcoming shows on social media platforms.
Way Forward
With the abating of the pandemic, the company has slowly begun to get back on track, having organised two physical shows in December 2021 before the advent of the Omicron variant. Today, the company stands much stronger, possessing a vast array of knowledge accumulated over the preceding two years, which is now being put to good use by promoting their events across multiple platforms. When asked about where he envisions the company would be in five years, Desai admits that the onset of the pandemic changed the company's initial plans of expansion. As of now, their primary goals are to develop their existing brands and make any kind of business partnership that could contribute to their growth.
Higher focus in the international market is also part of their ongoing strategy as India is currently looked up to in the international market as an icon of stable governance and immense opportunity. Their success in organising exhibitions in Kenya has motivated the company to consider expansion into other African countries as well. With its rock-solid business and promotion strategy and the ability to plan in advance for the worst of scenarios, Radeecal Communications, under the careful leadership of Sanyal Desai, is sure to become a significant international player by the end of the decade, if not earlier.
" Honesty and integrity are always at the forefront of our services, and we provide our participants with a symbol that indicates this level of commitment. The success of our participants is important, and we hope to contribute to that success by promoting their commitment to excellence. It is our intention to enhance the business capabilities and the power to maintain the growth momentum moving forward."
" At Radeecal Communications we strictly believe and implement that maximising value is not only an individual's task or the management's prerogative but a collective responsibility of all those who are a part of the system. Clarity of goals, well-defined job roles and timely dissemination of information at all hierarchical levels ensure the desired output. "
– Sanyal Desai