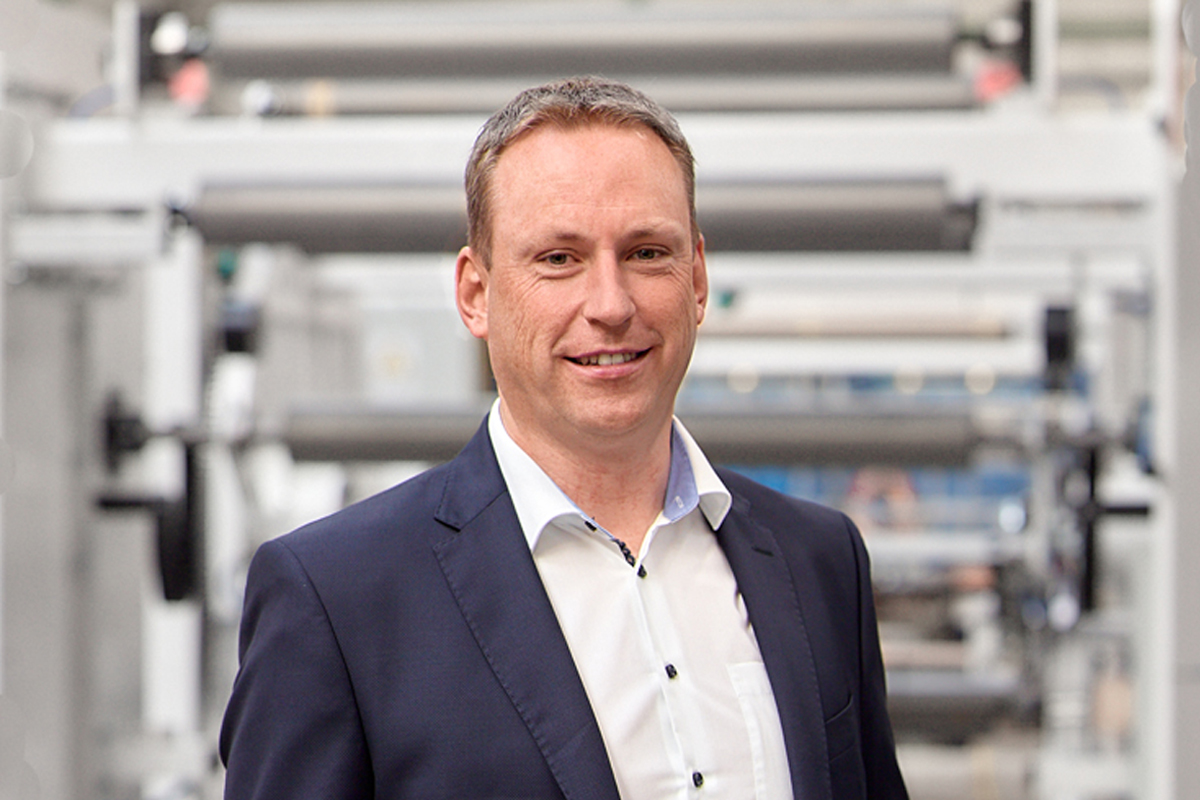 The Textile Division of the Neuenhauser Group comprises the Neuenhauser Transport Automation and Winding Technology divisions as well as the activities of the companies Sohler-Neuenhauser, Scholze Germany, Genkinger, Neuenhauser Rosink and the newest group member, Neuenhauser Ontec. The individual companies focus on specific product and market segments and are among the international market leaders in their respective fields
The Neuenhauser Group has always attached great importance to continuous product and process innovations. The group companies are ready to make a splash with a line-up of a series of products featuring state-of-the-art technologies at ITMA 2023. In an exclusive chat, Jörg Neyer, Head of Neuenhauser Transport Automation, gave detailed insights into the company's product range, technology innovations and participation in ITMA and future plans. Beginning the interaction with the group's performance in 2023 so far, he said: "Due to the weakening sales markets worldwide in the textile industry, we started the year 2023 with caution and are now pleased about the good order intake so that it will be a good year 2023 for the Neuenhauser Group."
Wide Range of Products
Replying to a question on the product range offered by the group's companies for the textile industry globally, he mentioned: "The textile division of the Neuenhauser Group comprises the Neuenhauser Transport Automation and Winding Technology divisions as well as the activities of the companies Sohler-Neuenhauser, Scholze Germany, Genkinger, Neuenhauser Rosink and the newest group member, Neuenhauser Ontec. The individual companies focus on specific product and market segments and are among the international market leaders in their respective fields."
"Winding technology from Neuenhauser, travelling cleaner form Sohler-Neuenhauser, warp beams and warper beams from Scholze Germany and handlings equipment from Genkinger – we manufacture for the weaving sector. In the spinning sector we produce transport automation from Neuenhauser, travelling cleaner form Sohler-Neuenhauser and service machines from Neuenhauser Rosink," Neyer said before adding, "As well in coating and laminating sector we produce customer-made solutions at Neuenhauser Ontec."
Key Global Markets
Giving details about the key global markets for the group, he remarked: "The Neuenhauser Group's Textile Division has been the market leader in the various segments for years as a producer in the textile markets. But our main market is still India, China, Pakistan, Bangladesh and the United States."
Technology Focus
The group has always been known for its focus on technology and innovation. Sharing a recent innovation in technology, Neyer stated: "The Neuenhauser Group's claim is to constantly innovate in the markets and for this reason we are pushing our 'AGV' (Automated Guided Vehicle) technology and digital networking via interfaces."
Exciting Display at ITMA 2023
The group has lined up a series of exciting product displays for ITMA 2023. Jörg Neyer listed them down, giving detailed explanation about the different products that will be showcased.
• Neuenhauser Winding Technology presents weaving sector Hall 6, Booth No. C201, surface and centre winder for weaving, knitting and nonwoven fabrics. The company will showcase a 'multiwinder series' surface winder for any kind of woven fabric, equipped with load cell dancer system, ready for Industry 4.0.
• Neuenhauser Transport Automation presents in Hall 3, Booth No. C301 solutions in the field of automation for spinning mills, from the spinning can transport to the packaging of packages. The automatic guided vehicles (AGVs) for spinning can transport, as well as an AGV industrial vacuum cleaner and automated quality control 'QCS' for spinning mills will be on display.
• Sohler-Neuenhauser will be exhibiting in the spinning sector Hall 3, Booth No. C301 the latest models of the well-known travelling cleaner of the UNICLEAN series, e.g. a new energy saving model with intelligent fan and speed control. The TEXTRA roving bobbin transport system will also be on show.
• In the weaving sector Hall 6, Booth No. C201, Sohler-Neuenhauser will be exhibiting the travelling cleaner SP100 specially designed for weaving mills, which is characterized by high performance and extreme reliability.
• Due to the rapidly growing field of technical textiles, stationary suction systems for weaving machines of the latest versions will also be on display under the product name 'FX Systems'.
• Scholze Germany presents in Hall 6, Booth No. C201 as a manufacturer of warp beams, warper beams and cloth beams. As a specialist in this segment, Scholze can draw on a wide range of products and can supply the optimal beam for the respective application and for all well-known weaving machine manufacturers.
• Genkinger Material Handling exhibits in Hall 6, Booth No. C201 a complete programme for handling the logistical tasks in the weaving mill. Three electro-hydraulic trucks will be exhibited, starting with an electrically powered beam lift truck with harness mounting device, through an electronic-tractor for A-frame handling and a automated guided vehicle for fabric roll transport.
• Neuenhauser Rosink will be exhibiting in Hall 3, Booth No. C301 a range of products from the areas of service machines for spinning mills and can coilers/sliver coilers. A completely new spinning cylinder grinding machine type SZ2A Easy Unit will be on display. This new development is characterized by its universal usability for all proven spinning cylinders. A milestone is set with the very simplified operation via intuitive menu navigation on the touch screen.
• Neuenhauser ONTEC presents in Hall 6, Booth No. C201 with the product 'Turbotex', a machine to produce 0-90° fabrics with or without lamination.
In addition, the company can also supply machines to produce triaxial fabrics. "Whether laminating or coating is necessary, we continue to be your partner for customer-made solutions in special machine development and production," Neyer said.
Digitization Focus
ITMA 2019 was all about Industry 4.0. Sharing his views on what is the next in terms of manufacturing, automation and digitization, Neyer stated: "Due to the worldwide shortage of skilled workers, which also affects the textile industry, as well as the demand for sustainable products, the textile industry will not be able to avoid automation and digitalisation, and this is exactly why the Neuenhauser Group has the appropriate products to support its customers." Sustainability has emerged as perhaps the most used word in textile manufacturing.
Responding to a query on how the group's products and technologies ensure sustainable manufacturing he observed: "Our corporate governance specifies production processes according to ESG (environmental, social, governance). Customers benefit from an energy-efficient machine that supports customers' logistics processes to produce sustainable products."
Pointing out to the strengths and advantages offered by the group over competitors, Neyers noted: "With products from the Neuenhauser Group the customer receives a product of the highest quality, a good service and can use the long experience we have in the textile world. When a customer buys a product from the Neuenhauser Group, we enter into a partnership with the customer, so that he can participate from our experience of our different products over many years."
Optimistic Outlook
Finally, sharing sounded positive about the expectations on the future growth of the textile industry globally, Neyer said: "We have more and more people on this planet and therefore more and more textiles are needed. In order to do this cost-effectively and sustainably, our customers will have to automate and digitalise their operations in the coming years. The Neuenhauser Group would like to support the customers in this change."