Founded in 1997 by Horst Graute, Graute GmbH since then has made a name for itself in manufacturing machines for nonwoven industry. It is a company that excels in developing, designing and manufacturing of machines for fibre opening, blending, carding, webforming, winding, slitting, recycling and planning besides manufacturing of complete carding and airlay production lines.
The futuristic company is dedicated to the manufacture of innovative nonwovens that can be customized to the customer requirements.
As an experienced solution provider for complete turnkey plants, Graute trains special focus on energy management and progressive implementation of conceptual development. The technically mature high performance card with high speed outlet for speeds of up to 250 m/min is a prime example of it. It was specifically designed to be energy efficient, and offer optimized use of resources and ease of maintenance besides being sustainable.
Unique Solutions
Graute boasts of its special machines to process bleached cotton which include Micro Tuft Opener (MTO) which is particularly suitable for the fibre preparation of bleached cotton fibres. MTO ensures gentle opening and dissolution of the fibres up to an individual fibre thus finalizing the optimal quality of the end product.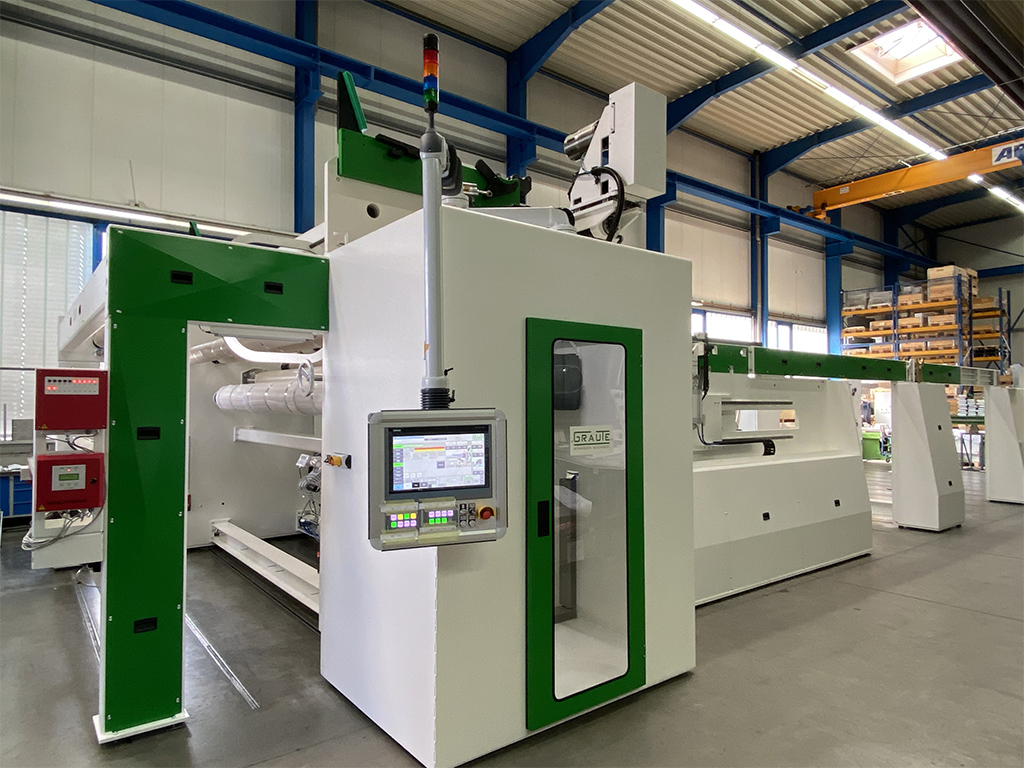 Aerodynamic web laying with Air Lay Card (ALC) helps in the carding process of producing webs with 100% bleached cotton or a combination of it with other firbres. Even the nonwovens with a basis weight of 40-300 g/m2 and a ratio of 1:1 longitudinal to transverse strength (MD-CD) can be produced here.
Graute's Random Card (RC) allows for cotton webs of >18 g/m2 with an MD:CD of 1:2.5 for items such as cotton wipes. A particular advantage of the RC and ALC is the specially designed changeable outlet which allows an RC to be converted to an ALC and vice versa, helping customers adapt to their varying needs.
Rieter Card in combination with the company's condensing roll system allows for inexpensive production of cotton web. Graute has specially developed the condensing roll system for mounting on a Rieter C60/C70/C75 card which increases the grammage and the MD-CD ratio by re-orienting the fibres. The condensing roll system with the Rieter card is also often used along with an ALC to produce cost-effective multi-layer webs. The use of ALC helps the middle layer in a 3-or 4-layer web, such as in the production of cotton pads, to be made of up to 70% recycled fibre.
The automatic Master Roll Winder (MRW), as a standalone version or in combination with a storage section, downstream slitter rewinder with automatic slitting section and winding shaft handling, designed as a fully automatic offline system, is characterized by its high reliability and easy operation. Besides the automatic roll change at production speed at the unprepared winding core, center and circumferential drive guarantee optimal winding conditions from the core to the last layer.
The advantage with Graute's machines is that they can be divided into individual sections within a few minutes thus allowing for fast maintenance and cleaning besides minimizing downtimes.
Sustainable Concepts
Qualitative re-processing of the waste generated in the nonwoven industry is the need of the hour along with sustainable concepts and recycling machines. Graute has, for years now, developing application-oriented recycling machines for opening of already consolidated materials and the subsequent fibre preparation. Through consistent development work, the product-related recycling machines are characterized by their constant processing quality and secure availability. By closing this technological gap, Graute makes a future-oriented contribution to the high-quality reuse of disposal-relevant products of the nonwovens industry and offers its customers an efficient solution for waste processing.