Bouckaert Industrial Textiles is pleased to announce it's further investment in its growing share of the polyester acoustical panel market. BIT hopes to continue its success in this space with the purchase of several pieces of new equipment that will be installed starting in 2021.
Bouckaert first entered the polyester acoustical panel market two years ago as a US manufacturing alternative to Chinese imports. Since that time, it has greatly improved quality, capacity, and capabilities on existing equipment and gained a sizeable client base. The addition of a brand new board forming line will allow BIT to double its production capacity of polyester acoustic panels. This machine will also significantly improve the quality of the PET sound absorbers with increased stiffness and exceptional surface quality. With an installation target date of Q3 2021, this is a major component of BIT's growth plans in the future.
Furthermore, coming in Q2 2022, a new carding production line will again double BIT's capacity. This will also improve quality by more consistently blending fiber (and therefore color!) throughout the acoustical panel. Driven by customer demand, BIT already has several anchor customers lined up. Once complete, Bouckaert Industrial Textiles is positioned to take the next step as a provider of polyester acoustical panels to the North American market. With the installation of this new equipment, we'll be relaunching our line of Poly-Sonic acoustical panels.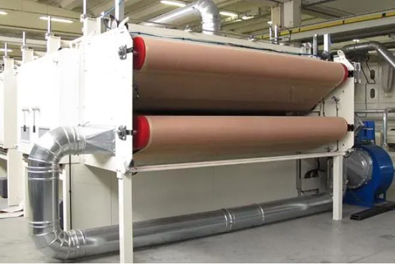 What are Poly-Sonic Acoustical Panels?
Poly-Sonic acoustical panels are a family of 100% polyester panels designed and manufactured entirely in the USA by Bouckaert Industrial Textiles to meet your acoustical needs. Poly-Sonic provides the best quality acoustical panels that are fiber glass and VOC free in the market. Every panel has a recycled content of at least 60% and can be designed to pass market flammability and acoustical standards.