The COVID-19 pandemic has brought renewed focus on the importance of medical and hygiene products. To help Indian industry meet the rising demand for textile medical and hygiene products, A.T.E. has tied-up with W+D BICMA Hygiene Technologie GmbH, Germany – one of the world's leading hygiene textile machine manufacturers.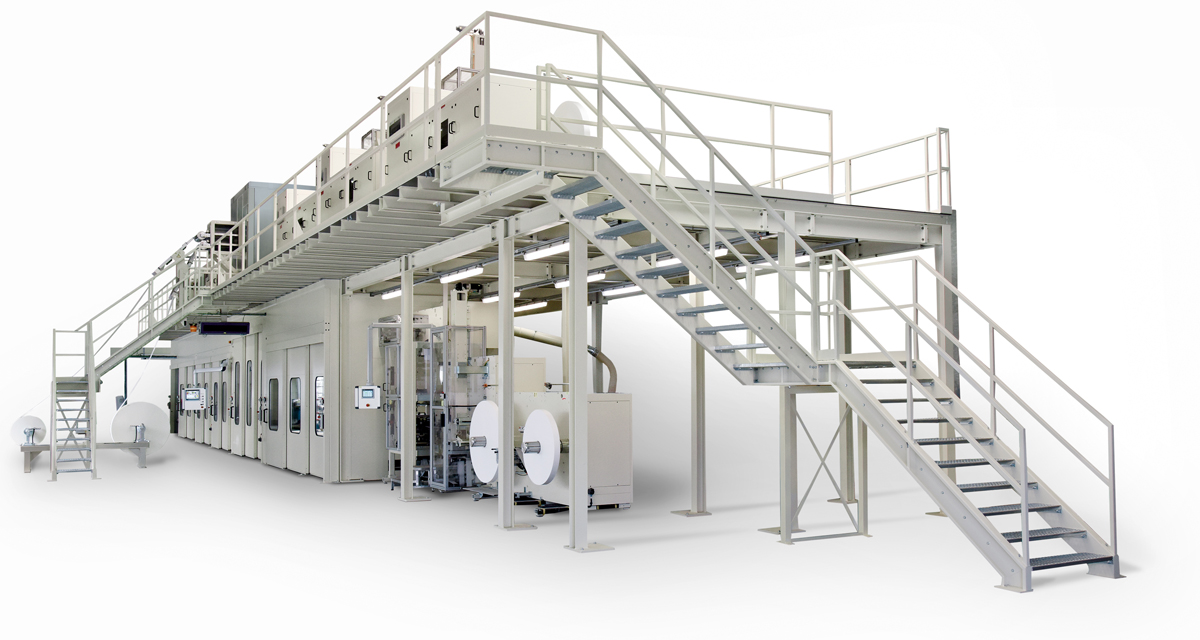 W+D BICMA supplies machines for manufacturing baby diapers, feminine care products, adult diapers, bladder control pads for incontinence, bed underpads, meatpads, pet pads and other specialised products such as surgical face masks and FFP2/N95 masks. Its portfolio comprises of a full range of compact high-speed multi-functional machines for high-capacity production and economical, medium-speed machines for start-up businesses.
According to Marc Wolpers, Vice President (Sales & Market Development Hygiene Solutions), W+D BICMA, the market changed in 2020 towards a more diversified offering resulting in smaller jobs. "You can clearly see that on the retail shelves as well as on e-commerce platforms," he says. "With this in mind, we need to make sure that our machines work with minimised format change parts and low change times. With our patented Size to Size 'S2S' modules and our rapid forming drum change W+D BICMA is certainly well positioned in the market", Mr Wolpers added.
W+D BICMA finds that the baby pants segment is gaining more and more market share in regions like India. The reason for this shift is certainly the ease of use; ease of putting on a pant, instead of an open diaper.
This is also the case in the adult diaper segment. Here as well the company sees a strong growth rate for pants since they are similar to underwear, easier to put on and give more comfort in wearing. Of course, the modern incontinence pants also have to be much more discreet than they used to be, in order to meet customers' demands. "Our machines at W+D BICMA have the best prerequisites to fulfil all those demands provided that the appropriate materials are used for production" says Wolpers.
Sustainability is another ongoing trend. W+D BICMA is keeping a close watch on the use of natural raw materials like cotton, bamboo, etc., as well as developments in bio-based spunbond materials to make sure it offers the right equipment to convert sustainable materials into hygiene products.
During the pandemic, W+D BICMA had designed a new high-speed machine in a short span of time which has the capability to produce 1 million face masks per day, called the Auxilium FM. BICMA also offers a high-speed machine that produces FFP2/N95 face masks.
"The Auxilium FM is a very successful new offering in our product portfolio which we realized in five months from the first sketch to the first running machine in our workshop," recalls Wolpers, and adds, "It was certainly a type of machine nobody had thought of in Europe before COVID-19. Now we evaluate those experiences to reduce time to market for our future developments."
The company has already installed several Auxilium FM machines in Europe and is currently working on many more new installations.
Besides complete machines, W+D BICMA offers upgrades for existing machines of any brand. These upgrades equip existing machines with new features to enhance machine efficiency and product design.
Some examples are:
W+D BICMA's preassembled S2S module: This upgrade enables a changeover time of just 2 hours from machine stop to full speed with a good product.
HDC (High Density Core): Saves costs by replacing the airlaid core of an absorbent product and increasing its efficiency to absorb more liquid.
To-go ministack: Enables wrapping of 4-5 products together in a re-closable flow wrap which saves >80% packing material as compared to single plastic wrapping.
W+D BICMA has many successful installations globally at some of the well-known brands, both for standalone machines as well as upgrades.