"The Tamil Nadu Government has taken necessary steps for the creation of a new integrated textile policy, acquired land through SIPCOT to develop a mega textile park spread over 1500 acres in Kumaralingapuram village in Virudhunagar District and initiated an action plan to procure new machineries and for modernization at an estimated Rs. 29.34 crore," said Mr. M.K. Stalin, Chief Minister of Tamil Nadu at the International Conference on Technical Textiles organized by the Confederation of Indian Industry (CII) in partnership with the Department of Textiles, Government of Tamil Nadu and Ministry of Textiles, Government of India.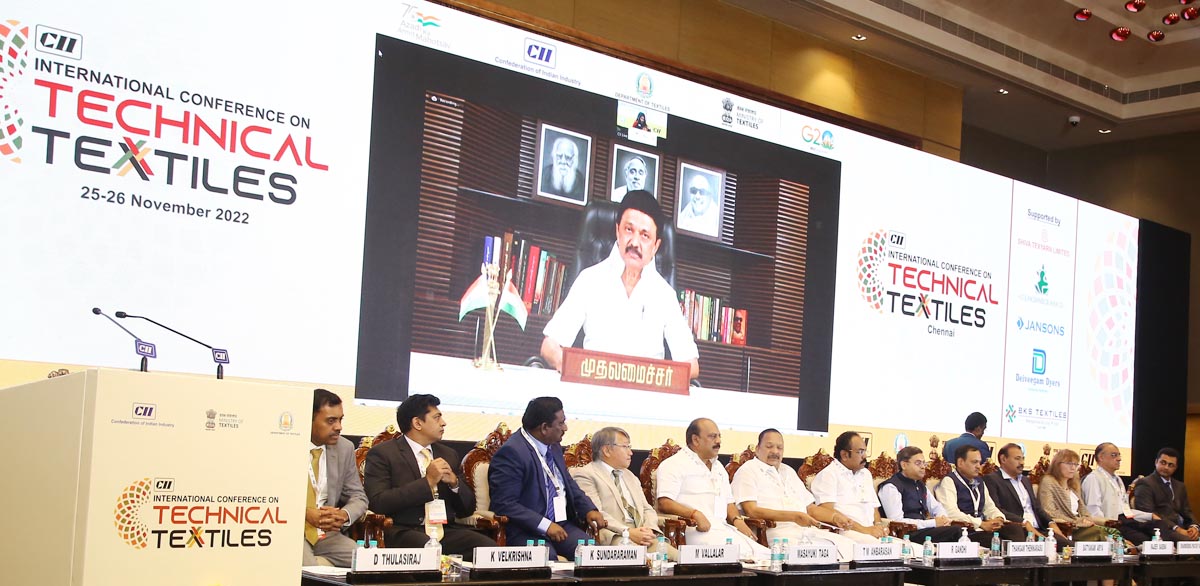 Welcoming the Technical Textile conference being organized for the first time, he added: "We are not competing with different States in India but also with different countries. For Tamil Nadu to make an impact and be seen, the TN Government is establishing "Export Hubs" in Karur, Tirupur and Kancheepuram to increase the textile exports of the State, said the Chief Minister.
"After the formation of our government, policy announcements such as creating a new Textile Department, Handloom segment getting the industry tag, creating mini textile parks across Tamil Nadu. The Government is planning to create a Textile Park near Chennai and all these initiatives has resulted in the Handloom and Textile industry performing very well," added the Chief Minister.
"After the agriculture industry, it is the textile industry that provides the highest number of employment opportunities for the people. After the government declared the Textile Industry as a sunrise sector, there has been an increase in investments from the International and domestic companies which is very encouraging. We are now positioned in the 3rd place when it comes to attracting foreign investments, and in exports too," said Mr. Thangam Thennarasu, Minister for Industries, Tamil Official Language, Tamil Culture & Archeology, Government of Tamil Nadu, in his special address.
"Tamil Nadu is a top performing State and is the first State to implement a zero-discharge liquid technology that has benefited the environment and industries too. We are also happy to announce for the first time in India, the Sewage Water of Salem Corporation will be treated and used in the proposed dying units in the Salem Textile Park. Also, a sum of Rs. 5 crore has been allocated for R&D for treatment of effluents and salt disposal to ensure a pollution free environment," said Mr. R. Gandhi, Minister for Handloom and Textiles, Government of Tamil Nadu, in his special address.
Mr. T.M. Anbarasan, Minister for Micro, Small and Medium Enterprises (MSME), Government of Tamil Nadu, in his special address, said: "The textile industry has grown by leaps and bounds and Tamil Nadu is a frontrunner. Many schemes have been introduced for the overall development of the industry benefiting over 200,000 people to start with. There is also a focus on sectors such as silk, embroidery, weaving, tailoring to help them grow. Post the introduction of the three schemes in the recent past, over 2291 youth have received grants of Rs. 90.94 crores and bank loans worth Rs. 363.76 crore have been sanctioned to entrepreneurs".
"Under the National Technical Textiles Mission (NTTM), the Ministry of Textiles has planned to achieve a market size of $40 Bn and exports of $10 Bn by the year 2024-25 with a total outlay of Rs. 1480 crore spread over four years. Under the NTTM, four pillars have been identified starting with Research, Innovation & Development being allocated Rs. 1000 crore, Promotion & Market Development – Rs. 50 crore, Export Promotion allocated Rs. 10 crore and lastly, Education, Training & Skilling being allocated Rs. 400 crore," said Mr. Rajeev Saxena, Joint Secretary, Ministry of Textiles, Government of India.
"The way forward for the industry is to carve out sector specific approach such as Agro-textiles and Geotextiles, encourage R&D, create more textile parks and Production Linked Incentive (PLI) schemes, push for higher exports and promotions, and finally generate demand and awareness," he added.
"Cloud computing, machine learning and 3D printing coupled with bio technological advances will change the way for the production of fibre, fabric and fashion. We want to capture this transformation and maintain our core position in the textile sector," said Mr. Dharmendra Pratap Yadav, Principal Secretary to Government, Handlooms, Handicrafts, Textiles and Khadi Department, Government of Tamil Nadu.
Six Memorandum of Understanding (MoUs) were exchanged with companies based out of US, the Czech Republic and Japan with companies in Tamil Nadu in the field of technical textile production and textile processing.
The MoU's exchanged was on recovery of chemicals from wastewater in common effluent treatment, higher energy savings solutions for pumps applications in common effluent treatment plants, reduction of water consumption in the textile processing industry and pollution to the environment, production, and sales activities of Meditech products and technical knowledge and investment of Japanese textile industries.
Other speakers who had addressed the gathering were Mr. R.D. Udeshi, President Polyester Chain, Reliance Industries; Dr. K. Sundararaman, Managing Director, Shiva Tex Yarns; Mr. Satyakam Arya, Chairman, CII Tamil Nadu, and Dr. M. Vallalar, Commissioner of Textiles, Government of Tamil Nadu.