Suntech Geotextile (P) Ltd., a reputed manufacturer and supplier of geosynthetic products in India, was established in 2013. The company is known for adhering to the principles of fair trade, social justice, honesty, transparency, integrity, promise-keeping and trustworthiness, and has been running its business successfully with all these principles in place. Under the leadership of Managing Director Rachit Agrawal, Suntech Geotextile has taken rapid strides. Agarwal, after pursuing his BBM from Bangalore University, became a part of his family business and got keenly involved in ushering in new-age business techniques and a young and vibrant culture in the company.
Products and Production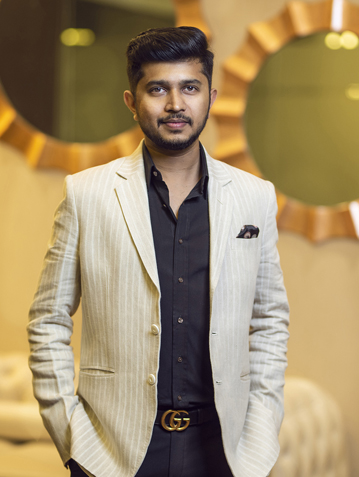 Elaborating about the company's production capacity, Agrawal states that Suntech Geotextile can meet various engineering requirements to match the ASTM, ENISO and ISO standards. The company successfully manages to utilise up to 85-90% of its total production capacity every year and constantly provides high-quality technical textiles. The company has a team of over 500 employees working on modern machines. Its range of products includes nonwoven geotextiles, geobags, geotubes, geocomposites, geomattress, geogrid, geocell, drainage cell, HDPE and LDPE geomembrane and woven teotextile. These are used for a wide range of applications in sectors like highways and roadways making, railways, flood protection and erosion control.
They are also used for pond lining, canal linings, soil stabilisation, landfills and tunnels, and other construction works such as slope protection. According to Agrawal, Suntech Geotextile is recognised by numerous government projects. "We have successfully supplied products to esteemed clients including WRD Rajasthan, WRD Assam, WRD Bihar, WRD Bundi, IOCL, Indian Railways, NCC Ltd., Larsen and Toubro Ltd., NTPC, NHPC, ISRO and the Indian Navy," he informs. The company also sells products to other countries such as the US, the UK, Qatar, Bahrain, Nepal, Bhutan, Bangladesh and Philippines.
Impact of Pandemic
The pandemic has had a devastating financial impact on several industries. In such a scenario, how has Suntech Geotextile been able to cope with the challenges? Replies Agrawal: "The pandemic has turned into a global crisis. Shutting down factories during the lockdown damaged the supply chain and resulted in a drastic surge in the prices of raw materials. The subsequent partial lockdowns have impacted the economy while putting several restrictions in place on key businesses. This has been followed by a slowdown in labour-intensive sectors such as manufacturing, construction and infrastructure. Slow economic activity is now leading to cash flow problems, eventually impacting repayments, interest, taxes, etc. due to restricted site access and transportation problems due to travel limitations."
"The Indian economy is facing testing times. Instant recovery is not possible by any means. Even post the unlocking the various restrictions are making the situation painful. We have therefore created organisational structures that are designed to treat sustainability as a material business issue. Closing skills gaps became a higher priority since the pandemic began. For the safety of our employees we had to adapt to the work from home pattern. We were wise to establish procurement nerve centres that bring together specialists in supply chain, planning, finance, operations and engineering. We are likely focus on developing more resilient supply chains and are attempting to recover in ways that can help meet our sustainability targets. The post-pandemic scenario has been completely different from the pre-pandemic one," he adds. 
"As the lockdown was phased out, it unravelled new challenges for us. We improved the knowledge of operations and vulnerabilities. We must now move to a zero trust mindset and need to improve our systems' ability to respond and establish control. Before the pandemic there was stability in demand and the prices of raw materials but that is not so now. Rapid change in demand, frequent hike in the prices of raw materials and amendments in government rules and regulations and policies has forced us to re-imagine and re-build organisational resilience by establishing high levels of governance and re-visiting and re-thinking our crisis management structure and response strategy to make a shift into a new normal," Agrawal states.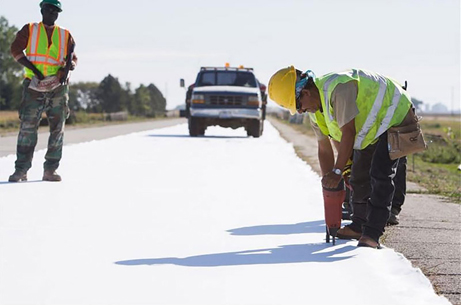 Growth Opportunities
Taking into account the crisis that the world is going through, which are the projects in the infrastructure sector where Rachit Agrawal sees large business opportunities in the near future? "The government has allotted Rs 1,000 crore for research, innovation and development of technical textiles in India. In April 2021, the ministry announced a PLI scheme for the textile sector to develop MMF apparel and boost the technical textile sector. The government is adopting geosynthetic technology for its upcoming infrastructure projects. Under the new guidelines of IRC 2019 it prefers a strategy for long-term road and pavement performance and build in safeguards during initial construction," he says.
"Further, one has to take into account the RDSO 2020. The government has prepared comprehensive specifications for construction of railways infrastructure, covering all aspects of execution of earthwork in construction and open lines. Both the guidelines have been set up recently. With the focus on infrastructure projects the demand for geosynthetic products has increased rapidly and there is a good opportunity in the future also, especially in roadways and railways where the demand has gone up. However, the implementation of technology in many sectors is still slow. Although guidelines have been formulated, the authorities are not taking into consideration the lifecycle cost of the project and other such factors. Lack of awareness among user agencies and departments is also a matter of concern," Agrawal states.
"Research and development is most important in this sector. We are only following those countries which are leading in this field. Subsidies and incentives should be offered to set up export-focused technical textile manufacturing hubs. Despite its use in various construction fields, it has major capabilities that could be applied in different fields which are still to be discovered. For instance, the agriculture segment has the potential to offer larger opportunities in the upcoming years," he further informs. Given this scenario, the company is planning to set up a new production unit by 2022 to cater to the growing demands in India.
Competitive Edge
Given the fact that the geotextiles' market segment is highly competitive, Rachit Agrawal lists a few reasons which give the company's products a competitive edge. "Our technical expertise in developing new products and better solutions works in our favour. We are working 360 degrees to improve and increase the flexibility of the company. Our professionals are motivated to implement processes that are put in place to ensure that problems are quickly identified and resolved in a timely manner. Suntech Geotextile is located in central India which makes it convenient both for domestic reach and exports. Our company and our expertise embrace change, accommodate new trends and technology and incorporate new skills. We believe in the theory of change being the only constant," he informs.
"Our professionals prepare plans in advance to deal with risks and turn them into opportunities. We have a dedicated research and development team which works round-the-clock for developing new product ideas and improve the existing ones. Our quality control and testing services helps dealers, importers and customers ensure that their products meet their own quality standards and the requirements of their destination markets. We provide detailed same-day inspection reports and 48-hour turnaround on laboratory tests, thus providing fast and reliable results that are required to take informed decisions for the supply chain. In today's competitive market, consumers pay more attention to the quality of material and fibre," Agrawal adds.
"We have an ISO-accredited laboratory that can self-certify products before shipping so that it minimises external testing costs, reduces delays and makes a strong, positive statement about our company's intentions to our customers. Our products are successfully tested by the best testing organisations of India. We are ISO-certified and develop standards to ensure the quality, safety and efficiency of our products, services and systems which meet the ASTM, BIS and ENISO standards. We are a CE-certified organisation i.e. we have an efficient management process in place to monitor the production process. This also opens doors for continuous improvement. A formalised system containing procedures, documents, responsibilities and processes for quality processes and objectives is available with us. We are focused on providing an improved customer experience which is clear from our commitment," he further states.
Participation in Techtextil 2021
The company shares an excellent relationship with Messe Frankfurt India, the organisers of Techtextil. It has already participated in the 2019 show and would like to do so again if the pandemic allows. According to Agrawal, the company got a good response when it participated in Techtextil 2019. It provided the company with an opportunity to showcase its products and connect with potential customers. It also helped in improving the brand awareness of the company while boosting its overall image. "The show was beneficial from the marketing point of view," Agrawal says. The company has plans to participate in Techtextil India 2021 where it may showcase its concrete mattress for coastal protection.
Future Plans
Revealing the company's vision for 2025, Rachit Agrawal says that Suntech Geotextile has plans to inspire a sustainable future by developing globally trusted geosynthetic solutions. "We strive to achieve excellence in all aspects of innovation, design, and manufacture and customer service. We do the right thing by delivering on commitments, being honest and reliable and taking our responsibilities seriously. We are focusing on innovative ideas and are being able to effectively put new trends into practice. This will ultimately fetch us rewards and make us the product development 'merchant prince' of the future. The vision for quality control is digitisation and automation, which will also ensure better quality and compliance by reducing manual errors and variability, as well as allowing faster and effective resolution of problems. We want to be a 'far-reaching exporter' by the end of 2025," he shares.
"The government has allotted Rs 1,000 crore for research, innovation and development of technical textiles in India. In April 2021, the ministry announced a PLI scheme for the textile sector to develop MMF apparel and boost the technical textile sector. The government is adopting geosynthetic technology for its upcoming infrastructure projects. Under the new guidelines of IRC 2019 it prefers a strategy for long-term road and pavement performance and build in safeguards during initial construction.
– Rachit Agrawal, Managing Director, Suntech Geotextile