Ganesh Kalidas meets Suresh Patel – MD, SIDWIN Fabric for an exclusive chat to tap into his company's strategy on how to meet the rising demand in the nonwoven segment and to know his robust plans to develop the sector.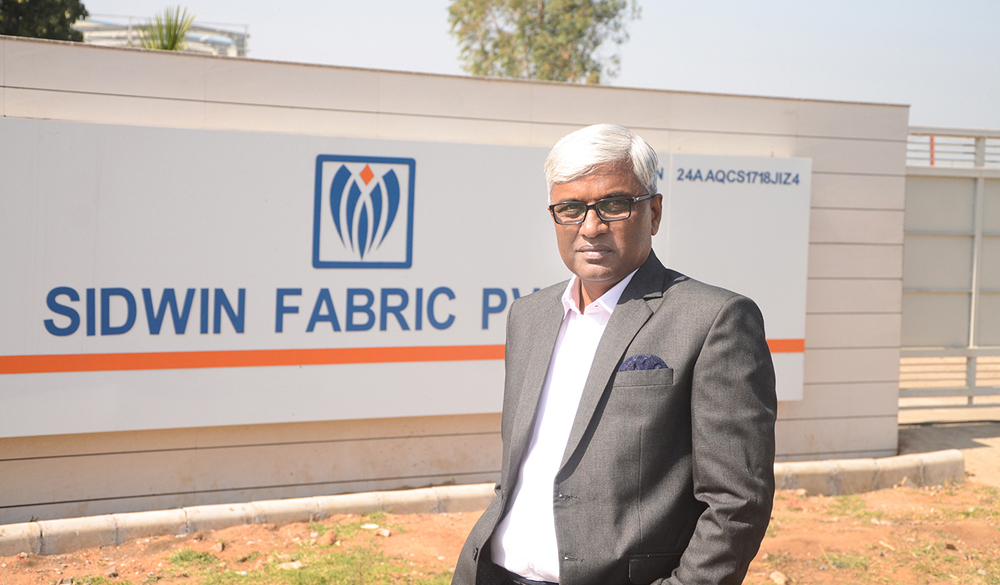 Established in 2011, Sidwin Fabric is one of the leading manufacturers, suppliers and exporters of PP Spunbond Nonwoven fabrics. It caters to medical and hygiene, agriculture, industrial and textile clothing, shoes and garments, packaging besides mattress and furniture industries.
Sidwin Fabric has the capacity to produce more than 25 metric tonnes of fabric a day, which translates into roughly 700 metric tonnes a month.
Now, Sidwin is in an expansion mode. With their 3rd unit coming up and capacity going up to 350 metric tonnes per month, their utilisation of the assets is 100%, currently.
Suresh Patel – MD, Sidwin Fabric says: "The demand for domestic and export market has increased tremendously. We export to around 8-10 countries including US, Canada, European countries, Oman, Dubai, Jordan, Israel, Sri Lanka, and Vietnam. And we export both directly and indirectly, where our product is converted into various end products and exported. In total, more than 70% of Sidwin's products are exported."
The raw material for these products is sourced domestically and also imported from Saudi Arabia, Singapore and other countries.
Standing Tall
Sidwin was born with an investment of roughly Rs. 18 crores and since then has worked relentlessly towards growing bigger. It was in 2019 when the company decided to increase their capacity by investing Rs. 10 crores more and earned a turnover of about Rs. 48 crores.
Patel adds: "In this quarter, we are set to double our turnover to touch Rs. 100 crores. We believe that we can achieve it because we work in different product categories. Also, in line with the current pandemic context, we have developed "SIDWIN" as a brand in the health segment, which is now well recognized. We maintain quality and our motto is to offer good products, and address any complaint that the customer has by offering proper solutions. We constantly work towards introducing new products from time to time especially those which our customers need. We keep our ear to the ground and we work towards making products to that effect."
Technology and R&D
When it comes to nonwoven fabric, most of the machineries are imported from China and in turn, the technology is also procured from there. According to Patel, the machines are brought in from Germany too, but they are more expensive than the Chinese made ones.
Patel expands on it: "About 98 % of the machines come from China but most of the product development is done in-house. It is only the technical knowhow that is consulted from outside. We use additive-based solutions for hydrophobic, hydrophilic, anti-bacterial, Flame Retardant, Antistatic features or any other need that we cater to."
Business Prospects – Pre- and Post-COVID
The impact of COVID-19 has been a mixed bag for both the nonwoven sector and Sidwin Fabric as a company. Though initially the pandemic wreaked havoc, soon it became apparent that Sidwin Fabric had a huge role to play in helping the masses, since PPE kits and masks became necessary items in the medical and hygiene terms.
Patel explains: "The government placed orders with us to make PPEs for the health industry. And this is one sector which has grown much during COVID and now too. The dramatic change is visible in the perception of the people towards nonwoven items, which till pre-COVID were seen only as plastic. But COVID has made people realise its importance as a protective measure. Across India, the growth in this sector is good. The government has also made it mandatory to use in many places. Now, we can see that hospitals use it as protective bed sheets, shoes cover, Head caps also, which was not the case earlier."
He is convinced that the demand for PPE kits will continue after COVID too, though the volumes may decrease. It holds true especially due to the fact that some hospitals in the country have made the usage of PPE kits mandatory for up to 2 years at least.
Patel explains: "The use of masks will continue because people are now aware that using it is a better way to protect themselves. In the hygiene sector also, the demand for the sanitary napkins and infant diapers has increased and as a result, we are now witnessing many companies entering this segment."
Further, these products have always been exported to the African countries, which will continue to be the case, keeping revenues flowing in.
But the challenge for the nonwoven sector came in the form of many state governments ordering ban on the usage of packaging products. And this had the industry suffering.
Patel says: "There was no proper understanding of the product as it is categorized under the disposable green segment. The governments were unaware that these products do not pollute the environment. But they attracted restrictions, since they are made of polypropylene. And that is the reason many units had struggled to stay afloat. But post-COVID, many different products have come back into the market and almost all the units now have started running in full capacity."
Since COVID, the segment has witnessed a growth of almost 20-25%. And hence many set ups have gone into an expansion mode also.
Success Mantra
Sidwin Fabric's core strategy is to fulfil every customer's wish and demand as far as possible and that too, on time.
Patel admits: "No buyer is small for us. We have to foresee what is the new product trend and try to be the first mover. We do not compromise on quality."
He believes that in a price sensitive market like India quality is more or less compromised by businesses to gain cost advantage. But Sidwin begs to differ.
He adds: "There are many discerning buyers who only look at the quality and not the price. Sidwin has its own quality standard and our buyer base is quality conscious."
Milestones
It was Sidwin Fabric which introduced the usage of nonwoven material in the agricultural sector in the year 2014. Though farmers are aware of the benefits of greenhouses, they do not know much about crop cover as a concept. Though both have a similar function, the cost difference between the them is big.
Patel explains: "We brought in the technical knowhow for crop cover from the US and Europe. Going by the weather pattern In India, which changes every three months, our farmers are not able to protect the crops. So, we developed UV-treated nonwoven fabric, "Grow Cover". We went to the farmers, did trials, and held exhibitions to create awareness among them. After 6 years of hard work, Grow Cover is now a well-known and a registered brand in the agricultural sector."
Today, the name Grow Cover commands government subsidy too in states like Gujarat, Maharashtra, Karnataka, Rajasthan, and Haryana, he claims with pride.
Vision 2025
Sidwin Fabric is working towards a target turnover of Rs. 300 crores by 2025. By next year, Patel hopes to put in a new production line which will help them touch the Rs. 175 crore mark, meeting their target more than half-way.
For Sidwin, it proves to be a win-win situation!